Carl van Vuuren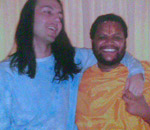 My introduction into natural and holistic therapies took place in 2003 when I was living and working in London. In much need of healing myself, I tried Reiki. My response to it was astounding and inspired me to study Usui Shiki Ryoho Reiki, Masters Teacher Practitioners Level and share it with others. I then proceeded to study Karuna-ki Reiki Masters Teacher Level, Pranic Healing, Shiatsu and other practices. In 2010 I was doing Atma Kriya yoga and Arhatic yoga when I met ( Paramahamsa Sri Swami Vishwananda ) My Spiritual Guru and received the blessing to practice as OM Chanting Facilitator. I feel blessed to have had experiences that have shifted my outlook on life and my greatest joy is observing the change in my subjects through treatment.
I am also a BQHT - Beyond Quantum Healing Hypnosis Practitioner, I also offer (ART)- AGE Regression Therapy, (PLT)- Past Life Regression Therapy, (BLRT)- Between Lives Regression Therapy, (SRT)- Spirit Releasement, (NLP)- Neuro Linguistic Programming.
I am a Registered, Qualified Master Teacher Facilitator for the Lightarian TM Programs. Based in Cape Town - South Africa. Lightarian TM is a Registered Trademark of the Lightarian Institute for Global Human Transformation - USA.
A Lightarian Attunement is a permanent etheric "connection", linking the recipient of the work with the particular celestial energy associated with the attunement being received. It stimulates purposeful support and can be accomplished in-person, over the phone or by telepathic techniques that we call a "remote." A remote attunement is also called working "at a distance" or simply a "distance" session.
Remote attunements are just as effective as those received in-person or by telephone. There are no limitations in transcending time and space....and the telepathic nature of our remote attunement methods is not mysterious or limiting in any way.
Some Courses I Have Done:
SMART Recovery Meeting Facilitator, 2014- present
The SMART Recovery 4-Point Program offers tools and techniques for each program:

Building and Maintaining Motivation
Coping with Urges
Managing Thoughts Feelings and Behaviors
Living a Balanced Life
The benefits of the SMART Recovery program:
Teaches self-empowerment and self- reliance.
Provides meetings that are educational, supportive and include open discussions.
Encourages individuals to discussions.
Encourages individuals to recover from addiction and alcohol abuse and live satisfying lives.
Teaches techniques for self-directed change.
Supports the scientifically-informed use of psychological treatments and legally prescribed psychiatric and addiction medication.
Works on substance abuse, alcohol abuse, addiction and drug abuse as complex maladaptive behaviors with possible physiological factors.
Evolves as scientific knowledge in addiction recovery evolves
Differs from Alcoholics Anonymous, Narcotics Anonymous and other 12-step programs.
SMART Recovery is a recognized resource for substance abuse and addiction recovery by the American Academy of Family Physicians, the Center for Health Care Evaluation, The National Institute on Drug Abuse (NIDA), US Department of Health and Human Services, and the American Society of Addiction Medicine.
ACCE Basic Level Training Course for Addiction Professionals on Universal Treatment Curricula.
Curriculum 1
Physiology and Pharmacology for Addiction Professionals. Organised by The Colombo Plan Asian Centre for Certification and Education of Addiction Professionals. Funded by The Bureau for International Narcotics and Law Enforcement (INL),U.S.Department of State.
ACCE Basic Level Training Course for Addiction Professionals on Universal Treatment Curricula.
Curriculum 2
Treatment for Substance Use Disorders-The Continuum of Care for Addiction Professionals. Organised by The Colombo Plan Asian Centre for Certification and Education of Addiction Professionals. Funded by The Bureau for International Narcotics and Law Enforcement (INL),U.S.Department of State. (A total of 42 Continuing Education Hours)